Oxx's new album The Skeleton Is Just A Coathanger, These Are The Black Strings That Make You Dance bursts forth from the very first second like a vicious, starved animal lunging straight for you and never lets up. If you're ready to experience the musical sensation of meeting your maker — you're in luck. Listen exclusively for the first time down below to the full latest album from this wild Danish band.
The musicians behind Oxx sound like they do not hold back whatsoever at any point on this record. Remarkably enough, despite their lunging and lurching sonic insanity — their new album remains musically captivating, too. There's a path that emerges through the noise — it's a twisting path leading straight to some kind of hell, but it's there all the same! With the ferocity of a hardcore band, this group explores sonic constructions that are definitively all their own and have got to be heard to be believed.
The record seems to zero in on a tumult very "real" and tangible. The boundaries of this sonic experience don't end with the confines of the record itself. It's like a black hole, pulling your life experience with hellish mayhem down into its midst. Make sure to a take a good look as you fall through the abyss — you might not get much of a chance.
The band share:
Thanks for checking in, and welcome to The Skeleton Is Just A Coathanger; These Are The Black Strings That Make You Dance; fucking stoked you're here, OXX collectively states. "Seeing as the whole thing is finally out now, we figure that most of the talking should be left to the music at this point. Besides, all of this, and what we hope to convey above all else here, something very deliberately prepared, but thoroughly unhinged in its expression and execution. It's a record created in a hysterical, phantasmagorical state, not so much psychedelic, as it was psychotic. Which is exactly the point here. The Skeleton… is both about, and a product OF a complete lack of control and orientation. And perhaps about figuring out, that once lost, there's no reclaiming that control. That whatever the fuck's pulling the strings, it's probably not you. But at least you're fucking dancing, right?"
The band will be making their way across the Atlantic for their first United States tour later this fall. They'll be playing their new album in full across these dates, and they've got a whole host of live collaborators lined up for this run, criss-crossing the whole country over the course of more than a month. They start in Philadelphia, head over to California, and — eventually — make it all the way back to Brooklyn for what for now is set as their tour's final U.S. date.
Keep scrolling for a full rundown of the tour!
First, dive into the caustic maelstrom of The Skeleton Is Just A Coathanger, These Are The Black Strings That Make You Dance below. It's out everywhere publicly via Nefarious Industries on August 16.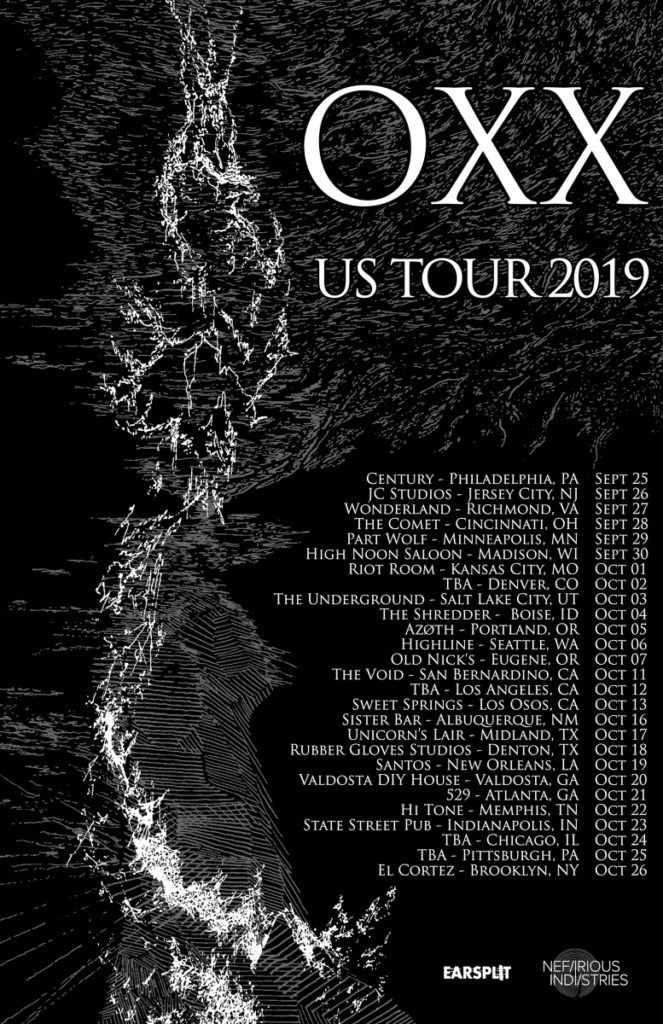 Photo thanks to Nikolaj Bransholm